Producers and broadcasters are seeking to push the boundaries of the audience experience with live programs increasingly immersive… To achieve this, while remaining within reasonable economic equation, a wide range of technologies can be used at the heart of workflows, including cutting-edge innovations and tools such as 5G, Augmented Reality, Virtual Studio, Virtualization but also simply smartphones... What are the new solutions and tools available ? And how to support and facilitate ambitious technical deployments while remaining within a viable production model ?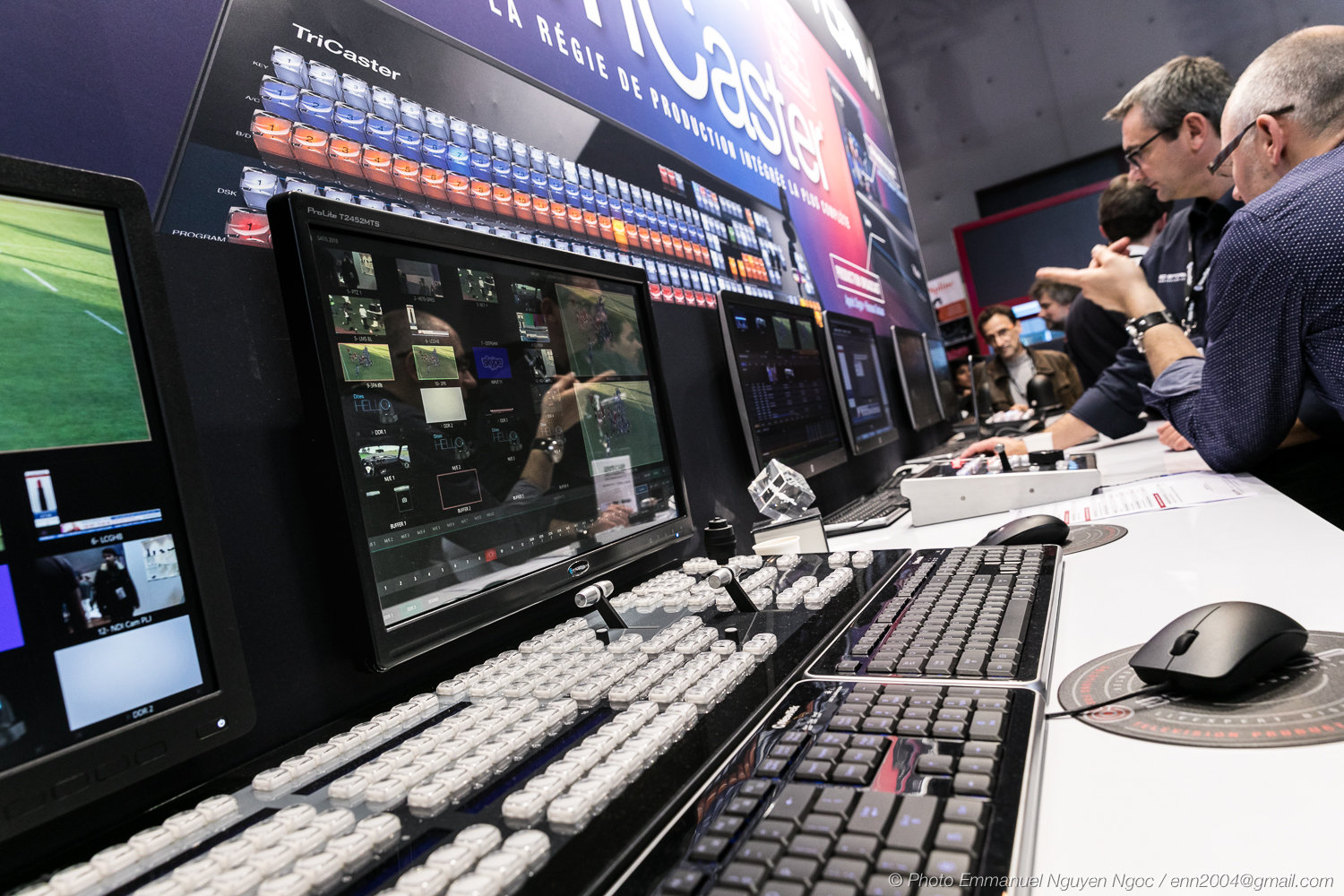 The SATIS Live Event conference series provides a global overview of the many tools available and offers a forward-looking view… Visitors to the Show will also be able to find a wealth of information from more than a hundred exhibitors presenting more than 150 emblematic brands…
Increase the Live… Discover the program !
Tuesday, November 5 – Creative workshop :
The smartphone, a high-end camera – 4:30 / 5:30
Far from hiding them, renowned filmmakers proudly claim the use of smartphones as their main camera. Manufacturers offer a complete arsenal of accessories, audio interfaces or optical complements. Discover the advantages of these devices, which can also be transformed into assembly benches, multi-camera control rooms, or live streaming stations!
Moderator: Loïc Gagnant
Tuesday, November 5 – Panels :
New methods of broadcasting, producing and broadcasting live sound – THEMA 2 – 10:30 / 11:30
Live, which has a special place in audiovisual production, has a wide range of technical means at its disposal. Free solutions – sometimes constraining – are combined with more advanced solutions at different price ranges. This conference helps to define which solution to choose, according to your project and your budget…
Moderator: Fabrice Arades
Virtual Studio and Augmented Reality for Live – AGORA 1 – 3:00 / 4:00
The technology is now adopted by all major television channels… Many sports and entertainment programs use virtual reality, augmented reality to increase the impact of their content. What are the advantages, disadvantages and solutions available on the market?
Moderator: Stephan Faudeux
Tokyo 2020 Paris 2024, the future challenges of sports images – AGORA 1 – 4:30 / 5:30
Next year Tokyo will host the Summer Olympic Games. This event will be an opportunity to deploy innovative technical means to capture and broadcast sports competitions in 8K. Four years later, Greater Paris will be the host city of the Olympic Games with technical deployments at least as ambitious. How can we design the future of sports images now – for both viewers and stadium audiences? What places will Ile-de-France companies have in the technical measures of 2024? How can we take into account and anticipate innovations to immerse the public in the heart of images?
Moderator: Stephan Faudeux
New virtualization and cloud tools for TV production and broadcasting – THEMA 2 – 4:30 / 5:30
In recent years, the world of cloud and virtualization has been in turmoil with new tools for developing and deploying services. These include micro services, containers with Docker, serverless mode and the Kubernetes orchestrator. First feedback on these new tools and expert testimonies that will present the fields of application in the TV production and broadcasting chain.
Moderator: Pierre Antoine Taufour
Wednesday, November 6 – Panels :
Update on HF transmissions (image and audio) – 4G, 5G and other solutions – AGORA 1 – 10:30 / 11:30
The mobile network, ADSL and fibre have contributed to the democratization of live video. What are the trends? And the limitations? Guests provide practical advice and detail their 5G strategy.
Moderator: Fabrice Arades
Video content, from production to broadcasting: what are the prospects with 5G? – AGORA 1 – 12:00 / 1:00
5G is part of the buzz of the moment. Apart from the commercial war that operators and equipment manufacturers will wage, what will be the impact of 5G on content production and distribution pipelines? How will 5G facilitate the deployment of virtual reality and more broadly the consumption of content in mobility and at home? The 5G on paper makes you dream! In the long term, technology should modify a large part of the eco-system for the production and distribution of audiovisual content. It will make it possible to accelerate workflows, to set up 4K or even 8K chains, to do VR LIVE. We will discuss this new field of possibilities with manufacturers, operators and content providers.
Moderator: Stephan Faudeux
The conference program is online here…
Visitor registration is open and admission is free !
SATIS – SCREEN4ALL in short…
– A 5000 m² exhibition – 3 Halls, more than 150 exhibitors and partners…
Our partners 2019 here…
– The 360 Film Festival fourth edition, a showcase for immersive contents (85 contents presented in 2018)
The Festival takes a new turn by rewarding the Technique, usually forgotten of the Festivals dedicated to immersive formats.
Discover the 360 Film Festival in detail here…
– More than 50 conferences and Keynotes with the following key topics :
Production Trend – Production & Live – Production Optimization – Breakthrough Innovation (5G, 8k, Blockchain, IA…) – Immersive Formats – Audiovisual Integration – Audio – Images
>> Topics covered in 2019 : IP Workflows & New Uses • Creation & Technology • Contents: Monetization Financing • Blockchain • New Cloud Applications • Social Networks • 5G • Artificial Intelligence & Media • 4k • 8k: Very High Resolutions • Hf in Shooting (Picture And Sound) • Live Event • Content Protection • Crowdfunding • Immersive Universe: Vr. Ar. • Mapping • Collaborative and Interactive Collaboration • Unified Communication • Digital Signage • New Screens • 3D Engine Real Time • LED Lighting • Intelligent Storage • Volumetric Video
…With 200 speakers representing the entire audiovisual value chain !
DATES AND LOCATION: November 5 and 6, 2019 – Docks of Paris, La Plaine Saint-Denis
Sign up today to receive all the news about the show!
Free accreditation
* About Génération Numérique
Founded in 2014, Génération Numérique is a 360 agency which offers information services to professionals in the film, television and new media industries. The company publishes two BtoB magazines: Mediakwest and Sonovision. To strengthen this information ecosystem, Génération Numérique acquired the SATIS and merged the tradeshow with Screen4ALL, the Forum for Innovative Technologies for Film, Television and New Media. Génération Numérique was born from the passion of its founders for creation and innovation and the will to share with the progress of an audiovisual ecosystem in constant evolution.
** Screen4All is organized with the support of the Seine-Saint-Denis district, the Plaine Commune area, The CNC and the Pole Media Grand Paris.
Follow the SATIS and Screen4ALL on social networks…
Facebook : Satisexpo / Screen4All
Twitter : @satisexpo / @Screen4allforum
LinkedIn : Groupes Satis Expo et Screen4all
#SATIS #SCREEN4ALL #360FILMFESTIVAL